See Which Car Brands Are Making Big Moves
Cloud Theory's Inventory Efficiency Index is the ultimate tool for measuring market performance. It shows how well a particular make or model is keeping up with consumer demand. With February and March 2023 in the books, there were some big shifts in the rankings.
Cloud Theory's Inventory Efficiency Index provides a previously unavailable measure of OEM performance relevant to the marketplace. A score of 100 indicates that an OEM is getting its fair share of sales. A score above 100 reveals that an OEM is selling its vehicles more efficiently than average, while a score below 100 uncovers a need to raise demand to meet supply.
BMW rose significantly, improving their score by an impressive 10.3 points. However, RAM and Honda weren't as lucky and experienced significant declines, down 25.9 and 10.2 points respectively. But these shifts aren't the full story. Cloud Theory dug deeper to uncover the underlying dynamics driving these changes, revealing fascinating insights that every OEM should know.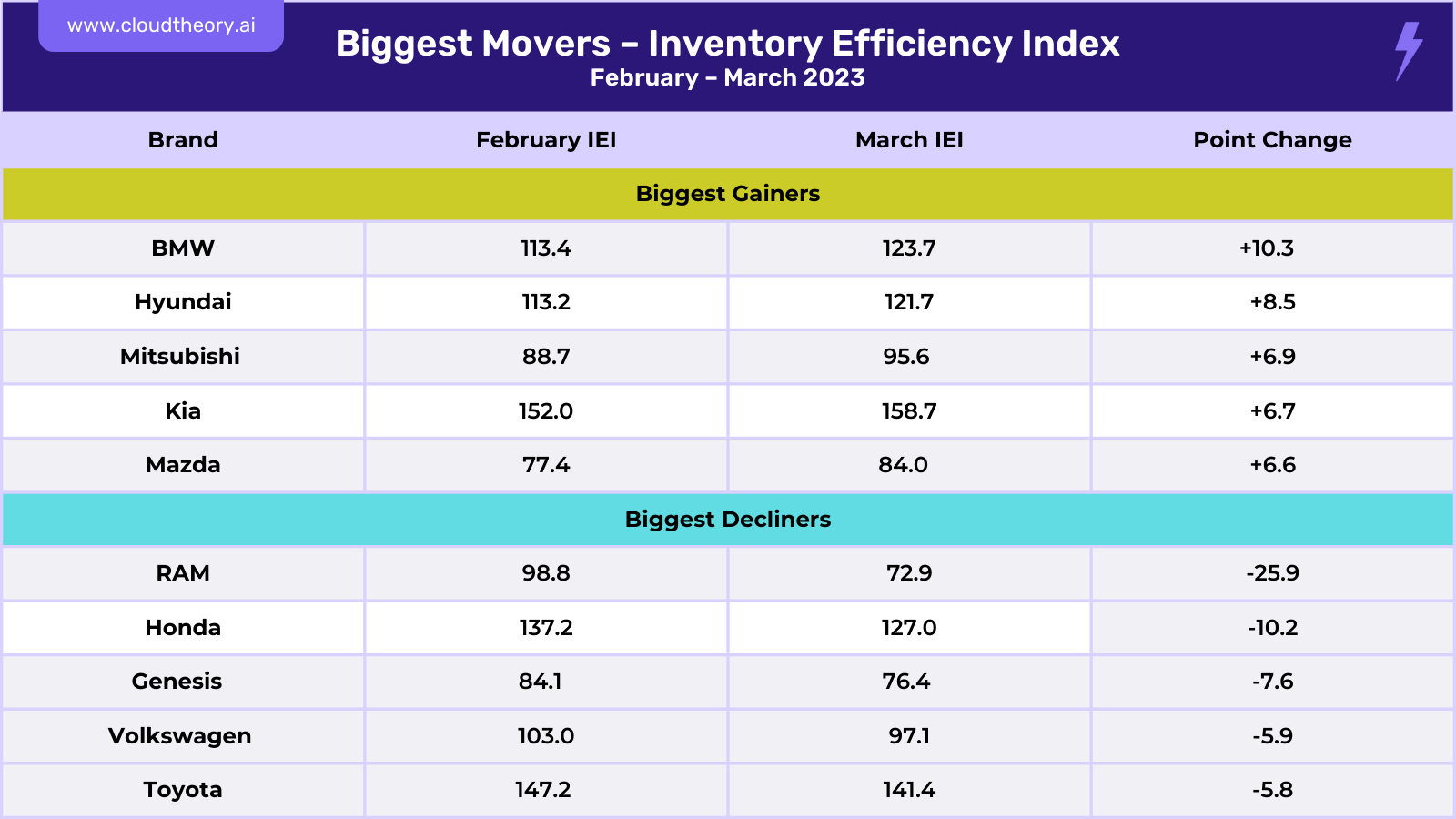 On the plus side
Last month, BMW, Hyundai, Mitsubishi, Kia, and Mazda gained the most points on the Inventory Efficiency Index, up between 6.6 and 10.3 points. For an Inventory Efficiency Index score to improve, a brand's relative demand must be increasing more than its relative supply.
BMW, which already had a strong score of 113.4 in February, improved significantly to 123.7 in March. The X3, 4 Series, and iX models saw double-digit increases in turn rates, which led to an impressive boost in vehicle movement. This dynamic shows that even when a brand is selling more than its fair share compared to its supply, there is always room to grow higher.
Mazda also experienced a significant gain — from 77.4 to 84.0 on the index. With the brand starting at a lower Inventory Efficiency score (below 100), this jump indicates that their demand and supply positions are moving towards being in better balance. Large gains in vehicles moved for the CX-5, CX-50, CX-9, and CX-30 contributed to the increase. For the latter two vehicles, this came at a time of decreasing inventories (in the case of CX-9, because of the introduction of the all-new CX-90).
It's important to note that an increase in a brand's Inventory Efficiency Index score means that their vehicles' relative demand position is outpacing its relative supply position, which is usually a positive sign.
A decrease is not always a step back
On the other hand, RAM, Honda, Genesis, Volkswagen, and Toyota saw the largest decreases in Inventory Efficiency, losing between 5.8 and 25.9 points. While a large drop can be concerning, it does not always indicate a problem. If Inventory Efficiency is already above 100, a small decrease can actually indicate higher efficiency as supply is closer to demand. When a score is already low, a drop is much more concerning.
For example, RAM's score dropped by nearly 26 points due to decreased sales of its 2500 and 3500 models, which offset the gains made by its 1500 model. On the other hand, Honda started with a higher score due to a period of low inventory and high demand. As its inventory improves, its score may drop (but remain above 100), indicating a healthier balance between market demand and supply.
Inventory Efficiency scores change frequently for various reasons, and Cloud Theory will continue to monitor and report on significant shifts. Stay up to date on the latest news in the automotive industry by subscribing to our blog.