Use Cases
Revolutionizing the way the automotive industry makes bold decisions.
Never before has the industry had access to insights that inform important budget, allocation, and business decisions both simply and accurately. Our insights and visualizations provide instant visibility of your market share position compared to your competition in any geography.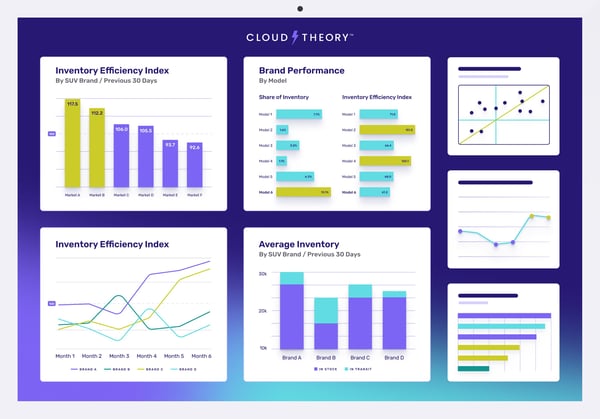 Increase ROI for your clients by using HorizonTM, our real-time, national and regional breakdown of supply, demand, and market share in one insights platform. Horizon by Cloud Theory includes a proprietary Inventory Efficiency Index that gives you a quick overview of performance on a national, regional or DMA level for a specific model or segment for your brand versus your competition. The Inventory Efficiency Index uses your market and inventory share to score how well-suited your inventory is to the market's current supply and demand.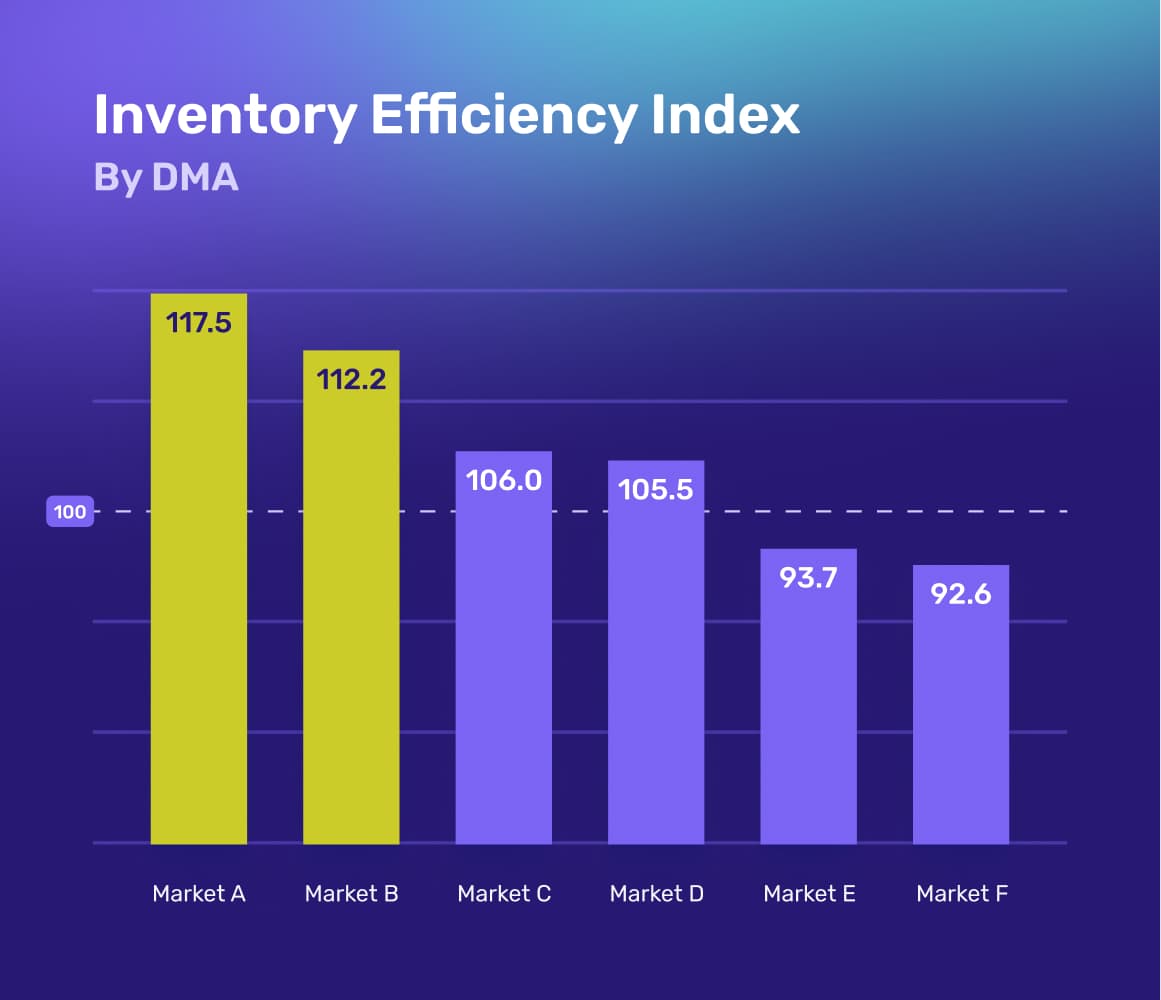 Adjust Spend by DMA
Spend your marketing dollars as efficiently and effectively as possible based on the market conditions as of today. In this chart, Markets A and B are balancing their supply and demand very efficiently, therefore, you can move advertising dollars from those markets to Markets E and F who are underperforming.

Maximize ROI
Let's say you were given an additional marketing budget for Q1 and need to determine which model will benefit most by the added investment. This chart shows that Model 6 has a large percentage of inventory within its market, but a very low efficiency score. This means that Model 6 has the inventory to meet higher demand generation, so you can increase ad spend.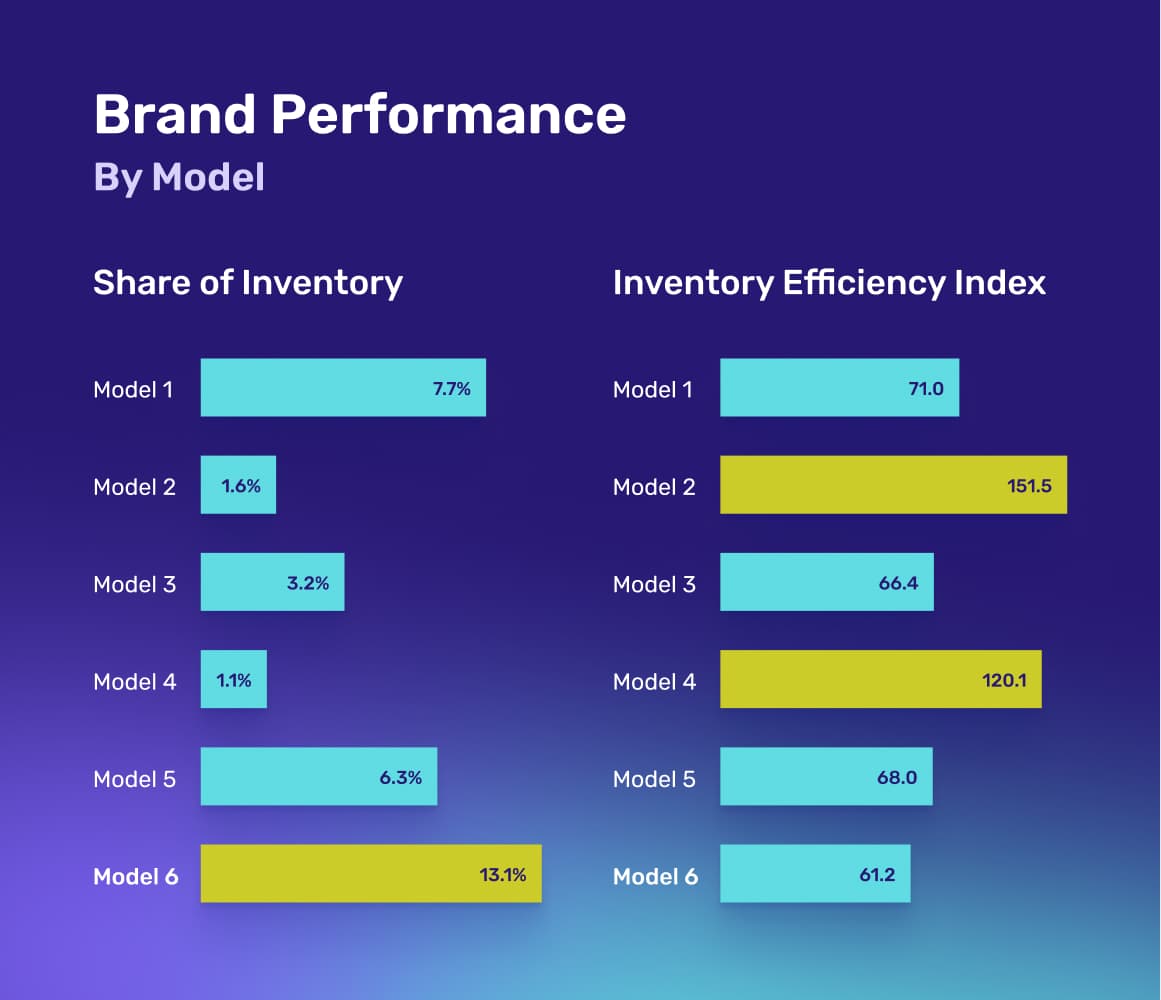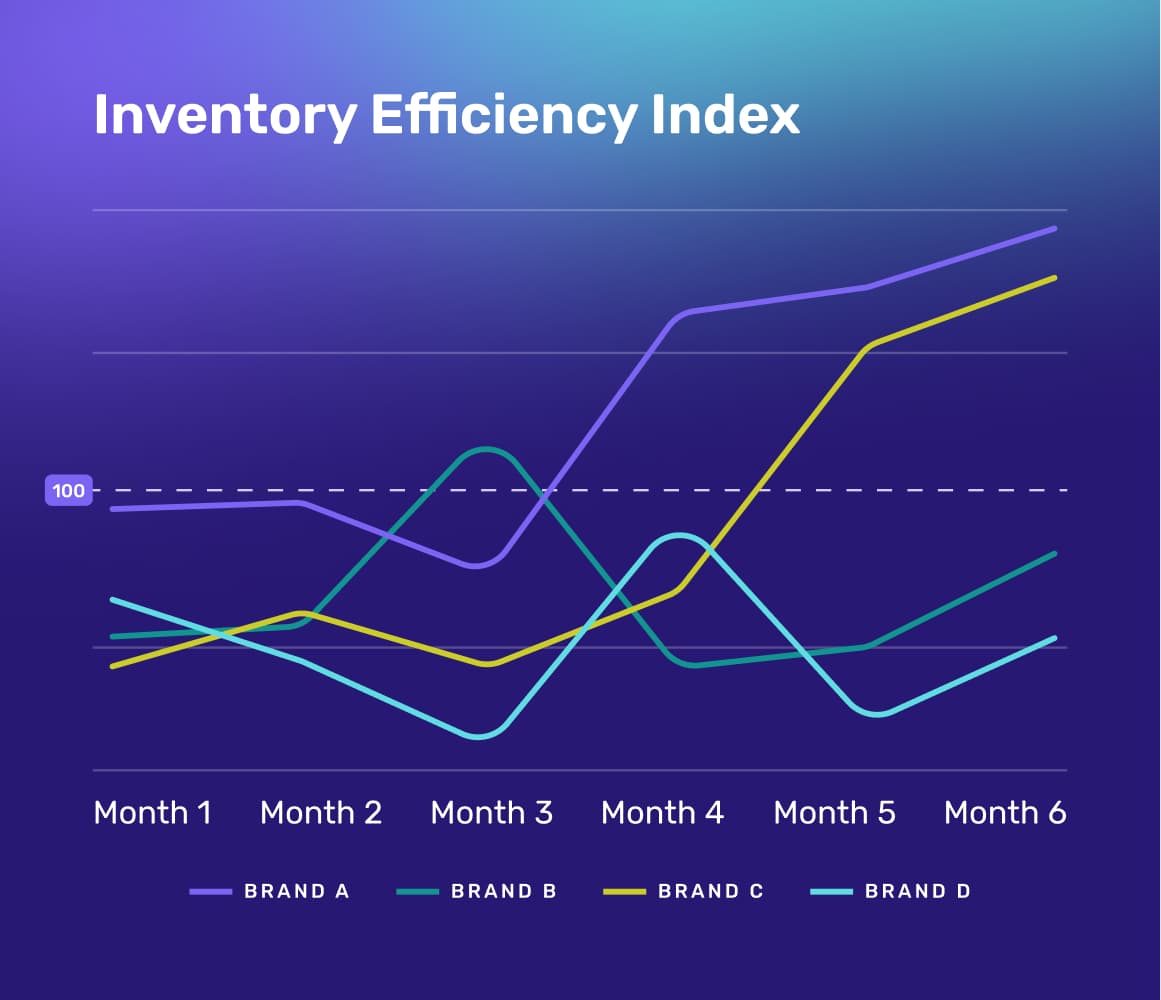 Win your Segment
You represent Brand B, but Brand C is steadily gaining market share in the shown segment. Dig deeper to find out which markets need more resources to improve Brand B's market position.
See how well your model sales are performing vs. competitors. It's not enough to just look at your total inventory. Seeing how much inventory you have vs. your competitors puts business decisions like allocation in context. Additionally, vehicles on lots do not tell the whole story. Knowing how many vehicles are in transit, provides a bigger picture.

In-Stock/In-Transit Ranking
This chart shows the average inventory positions for the top four SUV models in the US, broken down by in-stock and in-transit. If you are Brand C, you have a decent level of inventory amongst your competitors. This is good news–you have inventory! Now you need to know if you're selling vehicles fast enough.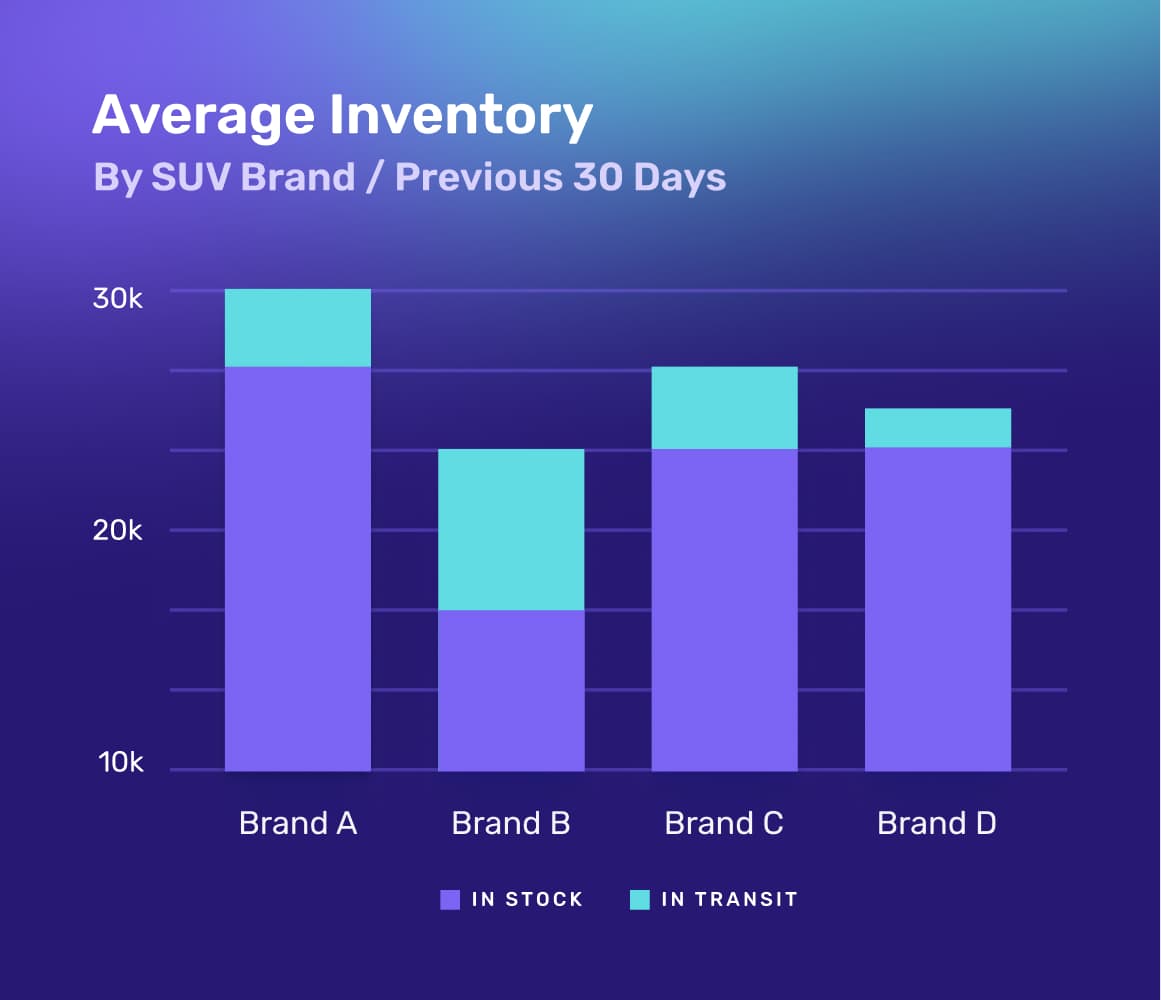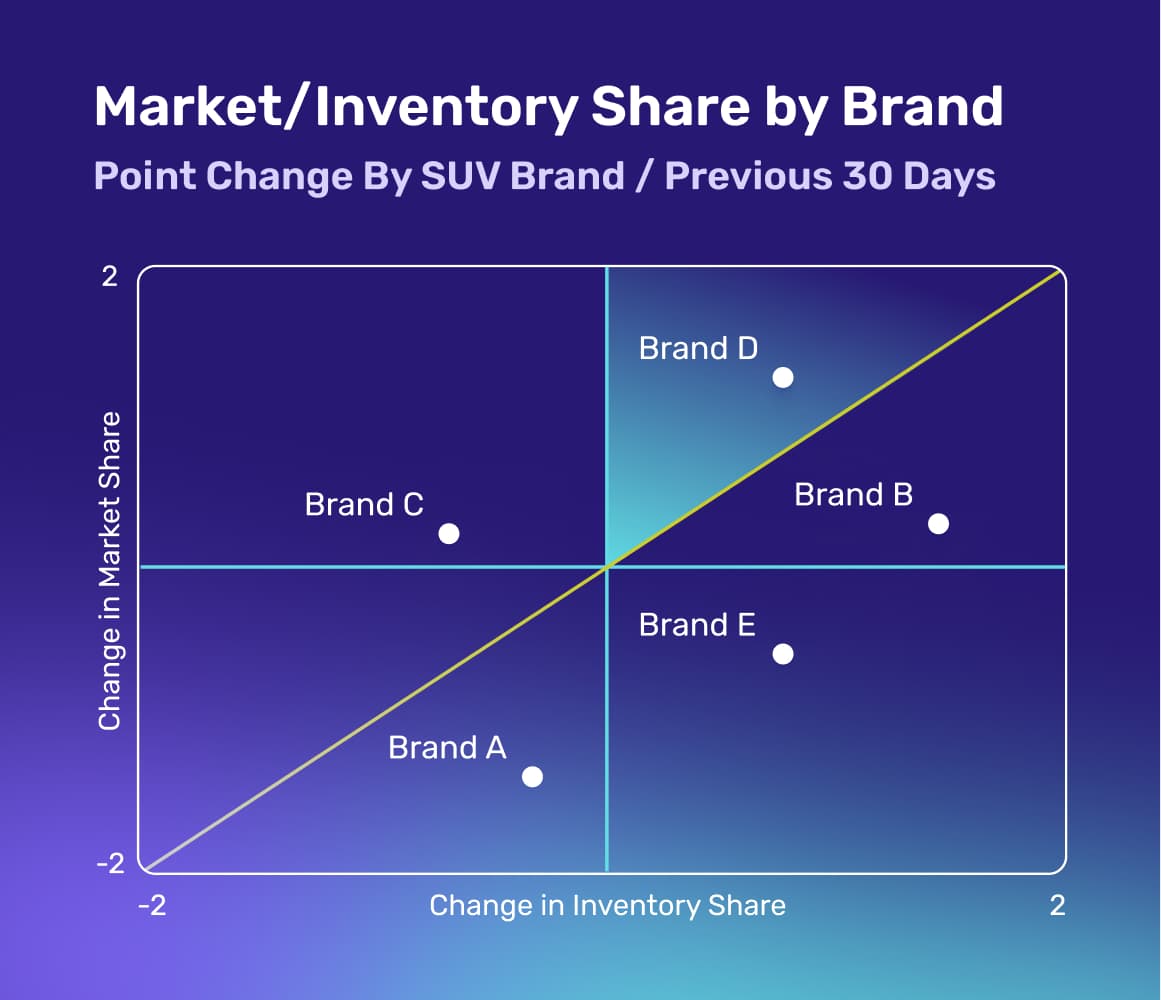 Evaluate Model Performance
This chart is showing how much your inventory share and market share are growing (or declining) vs other brands. In this case, Brand C's SUV is showing an improvement in overall market share, meaning you've increased the number of vehicles sold. However, your inventory share has not increased, and several other models are growing more quickly, indicating that you have some catching up to do in terms of inventory efficiency.

Boost Demand in the Right Places
This chart shows that the Brand C SUV has some markets where inventory share growth (X-axis) is outpacing market share growth (Y-axis) and needs a boost in demand. Any market below the diagonal line, but particularly Seattle, will need to advertise more or increase incentives to match demand to their improving levels of supply.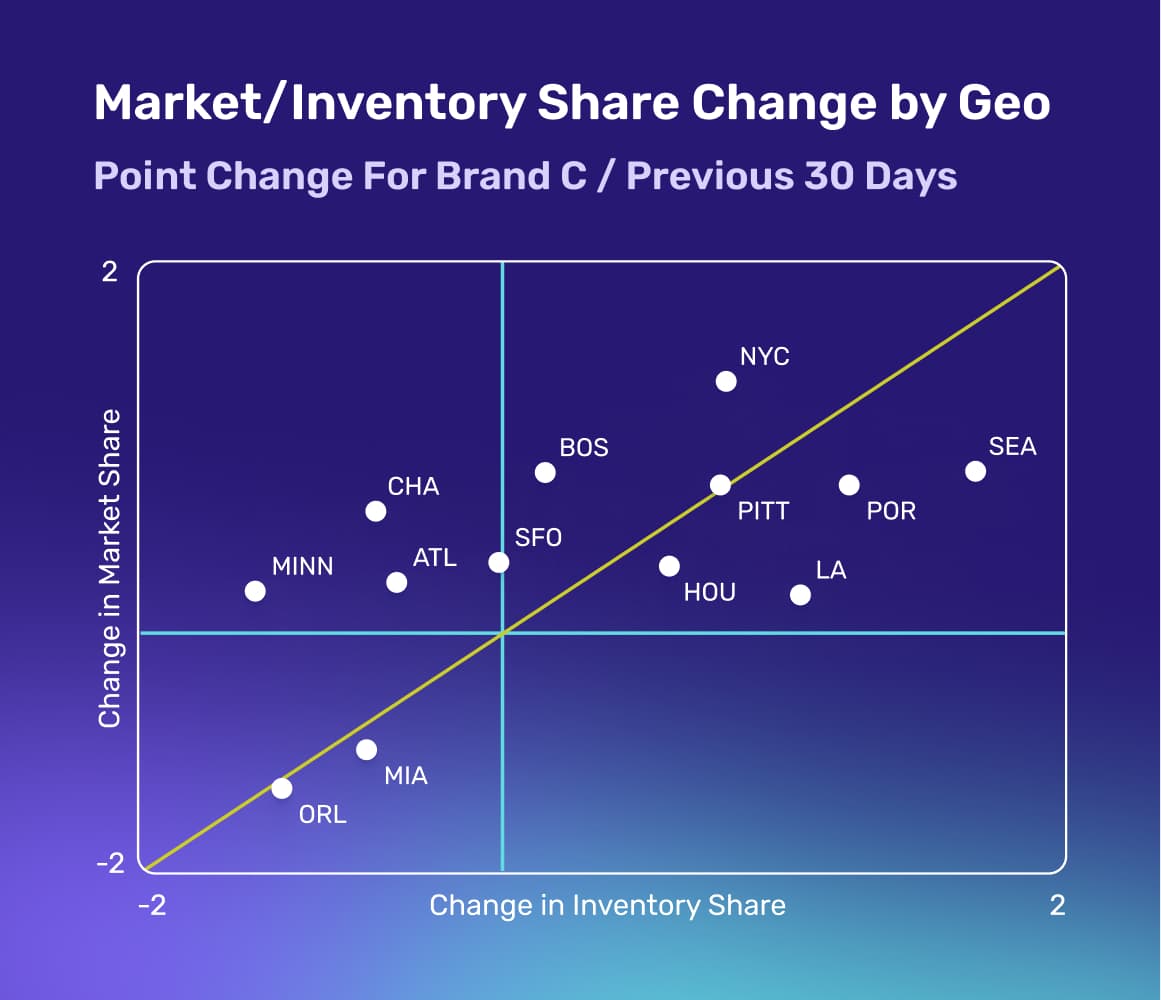 Stack rank how your dealer portfolio is performing according to strategic initiative. Our SkylineTM platform helps you analyze the performance of all of your stores in ways that were previously impossible. Group your stores based on characteristics like region, initiatives, inventory, and more, and easily diagnose what is working vs. what isn't. From there, you can maintain strong performance of your stores while bringing struggling dealerships up to speed.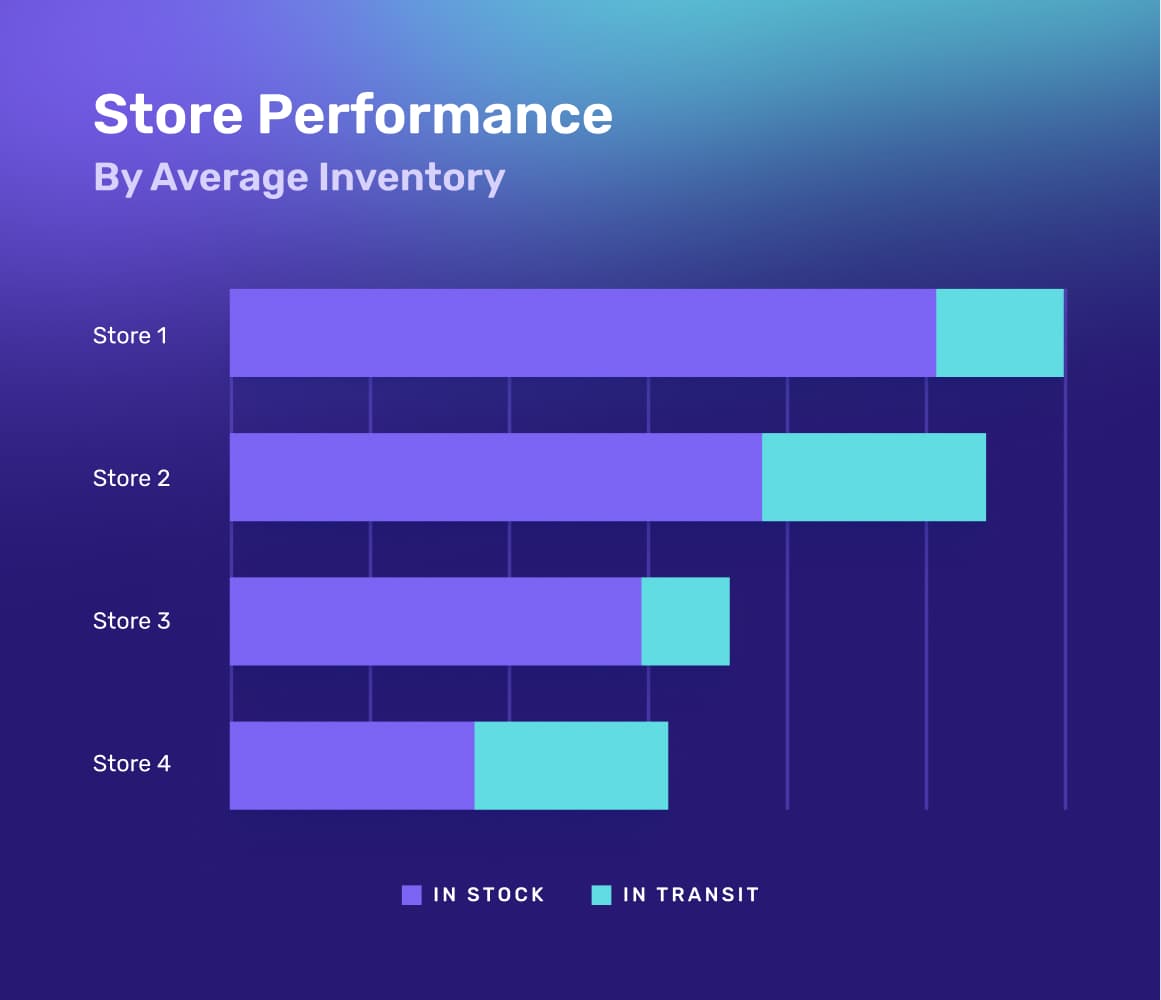 Reallocate inventory to the right stores
This chart shows that Store 2 is ranked 2nd in average inventory and also has a lot of inventory in transit. This could present an opportunity to reallocate some of that inventory to stores like Stores 3 and 4 who do not have as much inventory coming in.

Compare regional performance
While the previous chart shows how each store is performing in terms of average inventory, this chart shows which of those stores are located in each region. From this information, it is clear that the bottom store is in the Western region, and the Eastern region is also struggling. This indicates the group may need to reallocate inventory from the Northern region to the Western and Eastern regions to meet demand.