New vehicle inventory growing in a "new normal" environment below pre-pandemic levels
Starting with the COVID-19 pandemic in the first quarter of 2020, there have been a series of shocks to the system that have had a significant impact on the global economy, including the automotive industry. From factory shutdowns to supply chain disruptions, the industry has faced several challenges over the past three years, with one major outcome being a severe reduction in new vehicle inventory levels.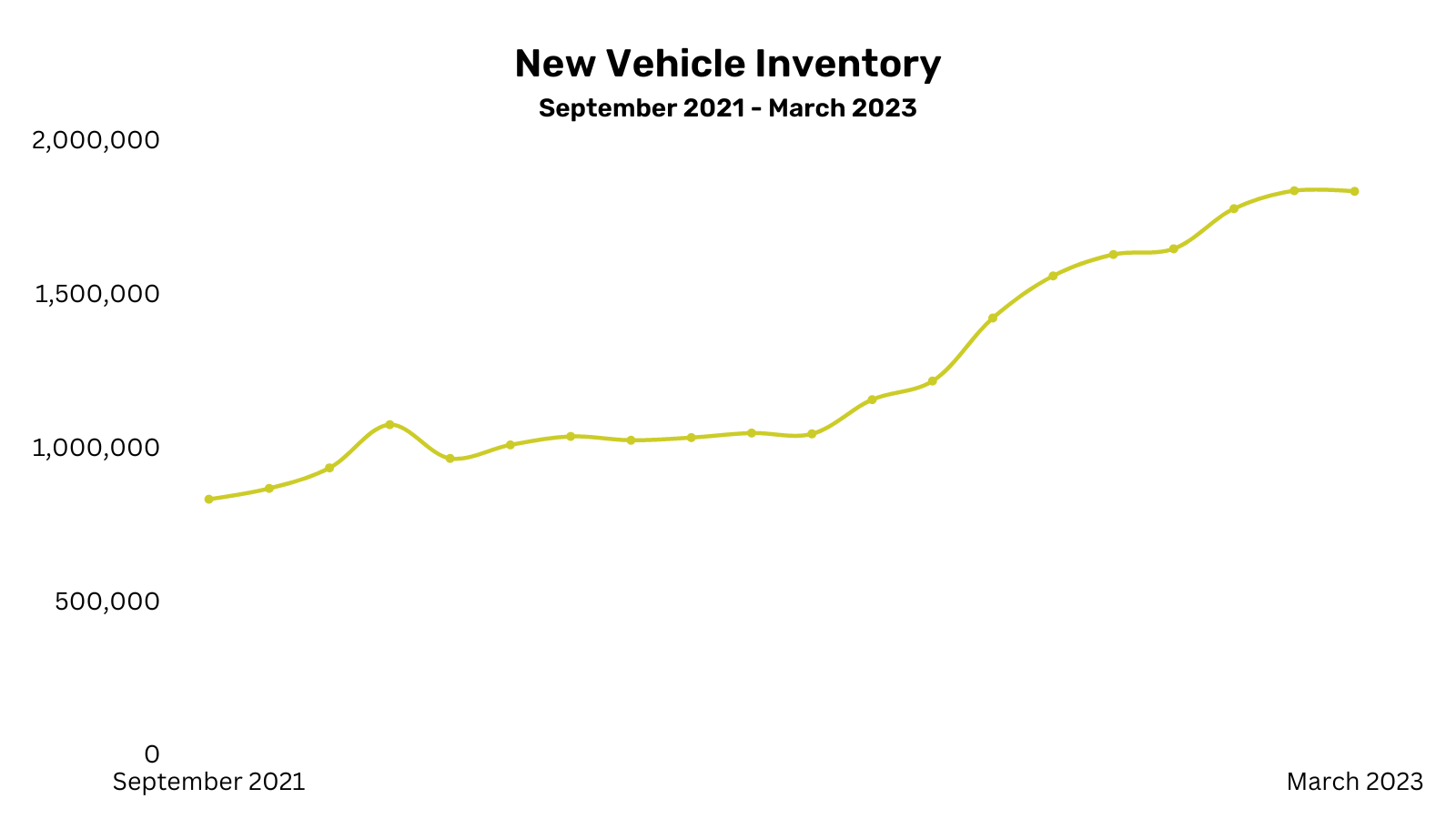 These inventory declines resulted in a low of 0.84 million new vehicles on dealer lots in September 2021 when semiconductor chip shortages led to production shortfalls, which in turn rendered dealerships unable to replenish depleting supply. Over the course of the last 18 months, the automotive industry has gradually restored its new vehicle stock, and in March 2023, hit a milestone on its way back to a "new normal": one million vehicles added back, totaling 1.83 million in the latest month.
Cloud Theory, with its unique perspective of counting virtually all new and used vehicle inventory on a real-time basis and across all makes and models in all geographies, can point out this paradigm shift in recent growth represents recovering industry health, even though levels seen prior to the pandemic (3.39 in January 2020) remain out of reach.
Commenting on the industry's inventory levels, Cloud Theory's Rick Wainschel, Vice President of Data Science & Analytics said, "While the industry won't see 3 million new vehicles in inventory any time soon – if ever again – hitting this growth milestone puts us on a positive path where supply levels of 2 million represent a shift to a healthier 'new normal'".
Momentum for this industry replenishment is growing. From February 2023 to March 2023 alone, the industry added 77,400 new vehicles to its inventory. Five makes, Honda, Jeep, Mazda, Ford, and Toyota, accounted for more than half of this increase. Honda, in particular, is an embodiment of this recent positive dynamic. It has been struggling with low inventory levels for almost two years, but the latest data suggests that the company is turning the corner and making progress in addressing its supply chain issues.
While Honda's new vehicle inventory levels are still down 65% from pre-pandemic levels, the company's supply increased significantly from February 2023 to March 2023, growing by 22.7% to 90,348. The CR-V and Accord models accounted for the majority of this gain, increasing by 10,640 and 4,384 cars, respectively. The Civic and Pilot also showed gains of more than 1,000 vehicles each in the current month.
In this "new normal" environment, it will be more important than ever for OEMs and their agency partners to make appropriate decisions to support the makes and models that would benefit the most from marketing and incentive support. With lower levels of inventory overall, identifying a more focused set of high supply/low demand situations will make spending allocations all-the-more crucial.
"OEMs will need to know how their increasing inventory levels are faring and comparing to make sure they are supporting their vehicles appropriately in this leaner but still competitive context," Wainschel continued.
In conclusion, the increase in the automotive industry's new vehicle inventory is a positive sign, indicating that the industry is slowly recovering from the supply chain disruptions caused by the pandemic. While the industry may not reach pre-pandemic inventory levels any time soon, the recent increase is a step in the right direction. OEMs will need to respond to this changing dynamic and carefully target their strategies to support their vehicles appropriately in the current competitive context.