In our recent 6-month review of inventory efficiency index (IEI) ratings, Cloud Theory broke down the trended rankings of automotive industry leaders throughout the first half of 2023. Although much of the focus was on the recent and ongoing leaders (Toyota, Kia, and Honda), it was noted that several General Motors brands showed great strength and improvement in their IEI ratings. That review also showcased a variety of routes that a brand can take to gain in its score —for example, maintaining vehicle movement in a declining inventory situation, or growing movement when inventory share is flat—which is true in the case of GM's portfolio.
Cloud Theory's patent-pending Inventory Efficiency Index provides a previously unavailable real-time view of market-relevant supply and demand for all makes and models and across all geographies. Key decision makers can use the IEI to confidently allocate valuable marketing and incentive dollars to locations requiring a boost in demand or reallocate vehicles to areas that are moving inventory more efficiently. Cloud Theory's Inventory Efficiency Index determines scores for vehicle makes or models based on relative inventory and movement data compared to competitors.
A score of 100 means that an OEM's demand is in balance with its relative supply in the marketplace.
A score above 100 indicates that a make or model is selling its inventory more efficiently than average.
A score below 100 means that there are opportunities to bring demand into better alignment with supply (or vice versa).
Throughout 2023, all four of GM's brands have improved in rating (and ranking), a favorable outcome deserving of recognition and a more detailed evaluation. Additionally, it is interesting to note the different paths the brands took to get there.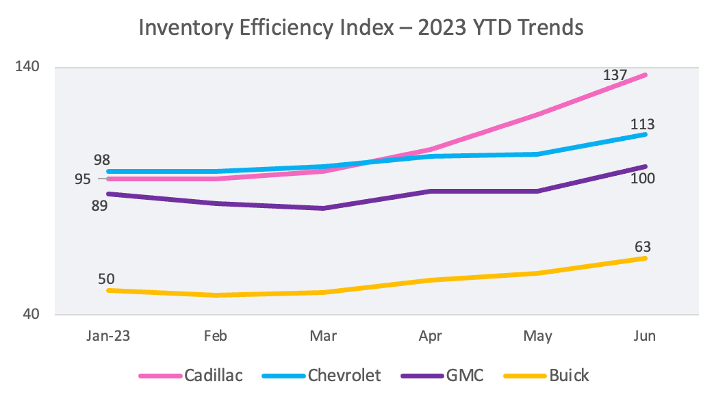 Chevrolet, a high-volume mainstream brand that participates in a wide variety of segments, has faced falling inventory share throughout 2023 but maintained its movement share at 10.88% in both Q1 and Q2. Core models such as Silverado 1500, Equinox, and Traverse experienced declining inventory positions but gained in vehicle movement in Q2 compared to Q1.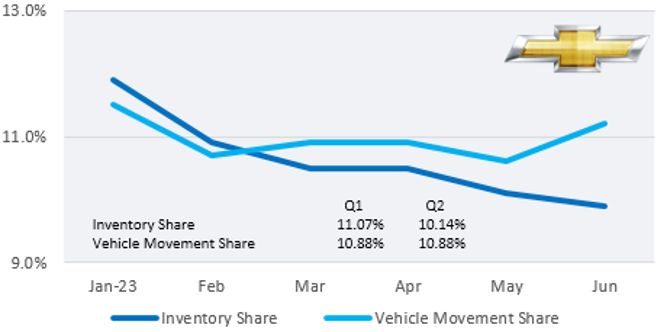 Luxury brand Cadillac declined in inventory share from Q1 to Q2, yet the brand gained movement share, increasing from 1.09% to 1.16%. For a more focused brand such as Cadillac, a slight gain in vehicle movement share has a big impact on its efficiency performance. Models such as XT4, XT5, CTS, and CT4 contributed to this result.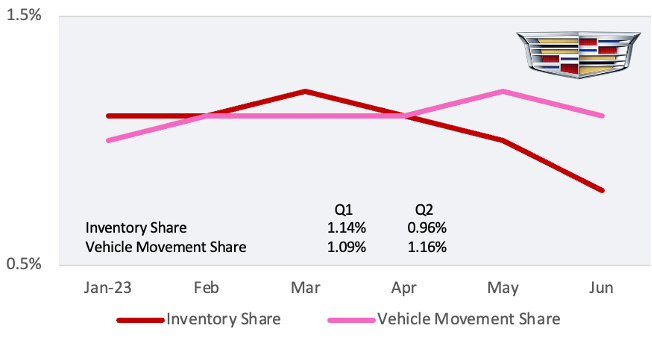 After GMC's movement share trailed its inventory share through the first five months of the year, the two were equal in June, hitting the 100-benchmark signifying alignment between the metrics. Terrain and Sierra 1500 are driving this outcome.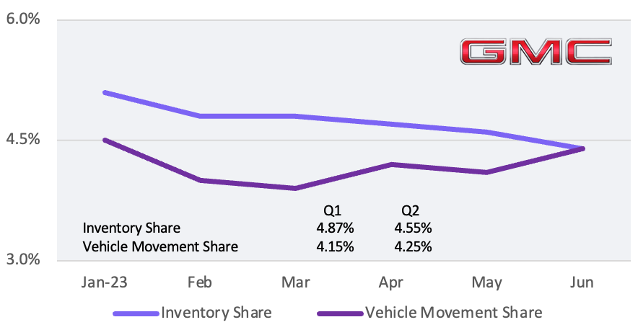 Lastly, Buick saw an uptick in movement share in the face of a gradually declining inventory share. However, the former remains below the latter—an indication that this brand still has opportunities to bring relative demand into better alignment with supply.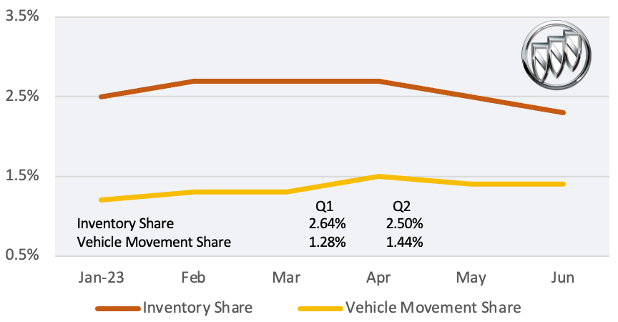 Notably, three of the four General Motors brands moved from an Inventory Efficiency Index below 100 to ones that are at or above that benchmark. And all four brands improved in ranking, with Cadillac (13th to 7th) and Chevrolet (12th to 9th) cracking into the top 10 over the course of 2023.
At a time when most brands' supply levels are recovering from supply chain-related challenges, a declining inventory share is not necessarily a bad circumstance—and that is true for the General Motors brands, which began building back its counts a year ago (vs. brands like Toyota and Honda, which have had more recent rebounds). What is more telling is that all four makes have experienced double-digit increases in vehicle movement from Q1 to Q2 (Buick +28%, Cadillac +21%, Buick +16%, Chevrolet +13%) even as inventory levels for each have been flat or slightly declining.
One brand seeing these increases and hitting these marks could just be an anomaly, but all four seeing the same result is a broader and more consistent outcome. As it has begun to reinstate or increase incentives for its key models, General Motors' earlier build-back in supply is now being matched (or beaten) with an increase in demand—a clear indication that GM is managing its inventory effectively…and efficiently.