Toyota Inventory Efficiency leads for the fourth month, but Kia is only fractionally behind; ​Honda jumps into the leadership fray by holding steady, GMC has improved drastically, and Cadillac continues to surge while Lexus and Land Rover erode
GRAND RAPIDS, MI - Cloud Theory, the innovative automotive data insights provider, has released its June findings of Inventory Efficiency Index (IEI) ratings, and a retrospective 6-month review as we hit the halfway mark in 2023.
Cloud Theory's patent pending Inventory Efficiency Index provides a previously unavailable real-time view of market-relevant supply and demand of all makes and models, across all geographies. Key decision makers can use the IEI to confidently allocate valuable marketing and incentive dollars to locations requiring a boost in demand or reallocate vehicles to locations that are moving inventory more efficiently. Cloud Theory's Inventory Efficiency Index assigns scores to vehicle makes based on current active inventory and sales data when compared to competitors.
A score of 100 means that an OEM's demand is in balance with its relative supply in the marketplace.




A score above 100 indicates that a make or model is selling its inventory more efficiently than average

A score below 100 means that there are opportunities to bring demand into better alignment with supply (or vice versa).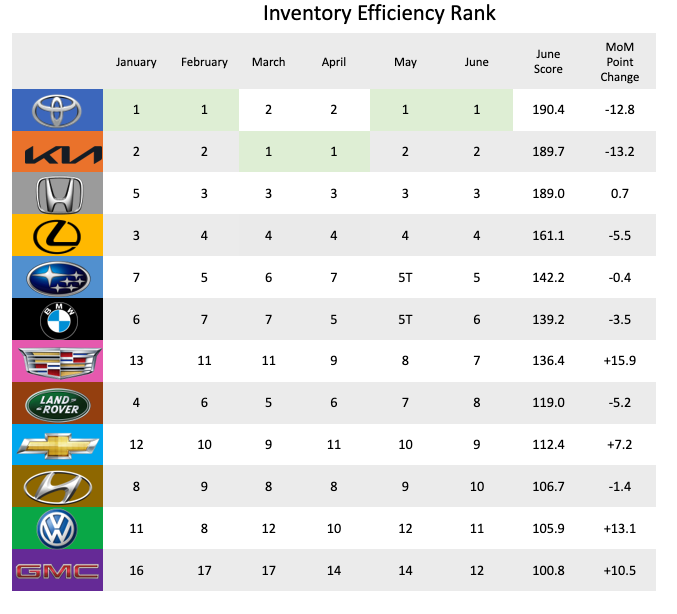 Over the past six months, industry leaders Toyota and Kia have been trading off leadership positions, but the graph and table above show just how neck-and-neck the two brands have been regarding Inventory Efficiency. Although Toyota currently sits in the #1 position, that lead is small—less than a point higher than second place Kia. And while those two continue to battle it out for the top position, Honda has stepped into the leadership fray by simply remaining consistent after a double-digit decline from Toyota and Kia month—over-month—all three brands are now within a point and a half of each other in June.
Looking at the luxury market, Lexus, which had been in the leadership mix earlier in the year, has steadily declined in its Inventory Efficiency Index. While it remains in fourth place, as it has been for several months, Lexus' gap to third place make Honda has grown from 3.7 points in March to 27.9 points in the latest period.
Another luxury brand that has suffered over the past six months is Land Rover. Its decline—both in score and rank (from fourth to eighth)—has been more dramatic than Lexus' compared to where Land Rover started the year. In contrast, Cadillac has risen through the efficiency ranks—starting the year off below 100 and in 13th position vs. now, decidedly above 100 (136.4) and in 7th position.
In addition to Cadillac, Chevrolet, and GMC are gaining in IEI rankings—a positive development for General Motors overall. It is noted that there have been varying paths to that improvement, with Cadillac getting there by holding steady on vehicle movement in the face of declining inventories vs. the latter two brands gaining on vehicle movement with steady supply positions.
"As the industry starts to stabilize in more of a 'new normal' supply situation, the halfway point of the year provides an opportunity to take stock of how brand dynamics are playing out," said Rick Wainschel, Vice President, Data Science & Analytics at Cloud Theory. "Right now, it's pretty much a dead-heat among the three leaders, but the trends playing out amongst the second tier of leading makes will be just as relevant to monitor as the Summer and Fall proceed."
About Cloud Theory   
Cloud Theory is more than a concept. It is the eye of the storm, where cutting-edge data, software, and artificial intelligence meet deep industry knowledge and experience. Built for automotive manufacturers, agencies, and affiliates, Cloud Theory enables our customers to understand – in real time – the complex competitive world in which they do business and to make bold decisions that drive them forward. The combination of billions of data points, interactive tools, and expert consulting gives our clients the ability to weather any storm and find their way to clear blue skies. Learn more at cloudtheory.ai. To learn more about our entire portfolio of automotive brands, visit www.advancelocalautomotive.com.   
For media inquiries, please contact:       
Rachel Slotnick    
rslotnick@cloudtheory.ai    
Mike DeVilling    
mdevilling@cloudtheory.ai    
###