Fueled by Declining Inventory and Accelerating Movement; Honda Leads in Five Regions, Including the Entire East Coast
GRAND RAPIDS, MI- Cloud Theory, the real-time automotive data insights provider, has announced that according to its proprietary Inventory Efficiency Index, Honda is now #1 nationwide, separating itself from last month's co-leaders Toyota and Kia.
Cloud Theory's patent-pending Inventory Efficiency Index (IEI) provides a previously unavailable real-time view of market-relevant supply and demand of all makes and models and across all geographies. Key decision-makers can use the IEI to confidently allocate valuable marketing and incentive dollars to models or geographies requiring a boost in demand, or to redistribute vehicles to locations that are moving inventory more efficiently. Cloud Theory's Inventory Efficiency Index assigns scores to vehicle makes and models based on current active inventory and sales data relative to competitors.
A score of 100 means that an OEM's demand is balanced with its relative supply in the marketplace.
A score above 100 indicates that a make or model is selling its inventory more efficiently than average.
A score below 100 means that there are opportunities to bring demand into better alignment with supply (or vice versa).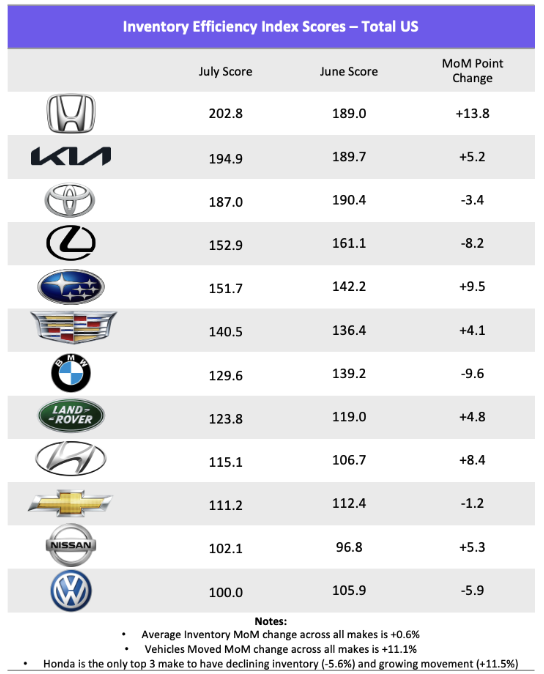 In last month's rankings, Toyota, Kia, and Honda were locked into a tight battle for efficiency supremacy, with those three brands separated by less than a point and a half. In July, however, Honda took clear leadership, surpassing Kia by almost eight points and separating from Toyota by almost 16 points. Honda's 13.8 month-over-month gain in efficiency was fueled by an improving Vehicle Movement position (up 11.5%) despite a 5.6% drop in its available supply. Several key models—led by Accord, Civic, and Pilot—contributed to this outcome.
"Since the beginning of the year, we've seen Toyota, Kia, and now Honda in the top spot," said Rick Wainschel, Vice President, Data Science & Analytics at Cloud Theory. "While Honda is in the number one position now, recent history and fluid supply-demand dynamics would indicate that these three brands are likely to duke it out over the second half of 2023".
In the second tier of leading brands, it is notable that Cadillac continues to improve its score and rise through the ranks, with that make passing BMW and now in sixth position in the current month. Cadillac began the year ranked 13th.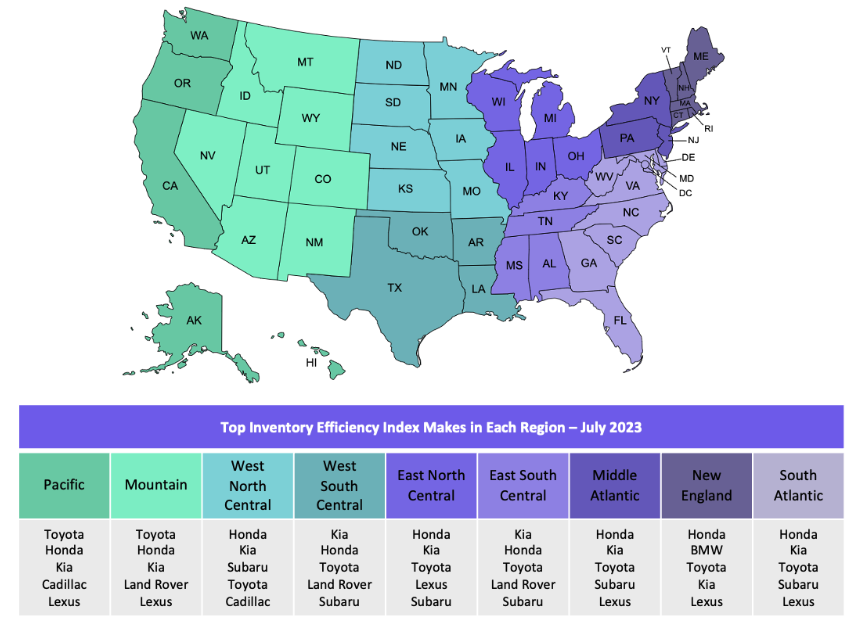 On a regional basis, Honda now leads in five of the nine US Census regions, including all three encompassing the east coast. Kia's regional leadership is focused more in the country's lower Midwest, while Toyota is stronger in the West.
"Understanding a brand's relative efficiency position on a regional basis is crucial to making smart advertising, incentive, and vehicle allocation decisions," said Ron Boe, Chief Revenue Officer at Cloud Theory. "Identifying locations that have supply/demand imbalances is key to taking appropriate actions to ensure that money is spent where it is most needed," he continued.
About Cloud Theory  
Cloud Theory is more than a concept. It is the eye of the storm, where cutting-edge data, software, and artificial intelligence meet deep industry knowledge and experience. Built for automotive manufacturers, agencies, and affiliates, Cloud Theory enables our customers to understand – in real time – the complex competitive world in which they do business and to make bold decisions that drive them forward. The combination of billions of data points, interactive tools, and expert consulting gives our clients the ability to weather any storm and find their way to clear blue skies. Learn more at cloudtheory.ai. To learn more about our entire portfolio of automotive brands, visit www.advancelocalautomotive.com.  
For media inquiries, please contact:      
Mike DeVilling   
mdevilling@cloudtheory.ai   
Rachel Slotnick   
rslotnick@cloudtheory.ai