GRAND RAPIDS, MI- Cloud Theory, the real-time automotive data insights provider, has announced that according to October results from its proprietary Inventory Efficiency Index, Toyota has again taken the top spot nationwide, beating out months-long leader Honda.
Cloud Theory's patent-pending Inventory Efficiency Index (IEI) provides a previously unavailable real-time view of market-relevant supply and demand of all makes and models and across all geographies. Key decision-makers can use the IEI to confidently allocate valuable marketing and incentive dollars to models or geographies requiring a boost in demand or to redistribute vehicles to locations that are moving inventory more efficiently. Cloud Theory's Inventory Efficiency Index assigns scores to vehicle makes and models based on current active inventory and sales data relative to competitors.
A score of 100 means that an OEM's demand is balanced with its relative supply in the marketplace.
A score above 100 indicates that a make or model is selling its inventory more efficiently than average.

A score below 100 means that there are opportunities to bring demand into better alignment with supply (or vice versa)



After being the top brand in Inventory Efficiency for four of the first six months in 2023, Toyota was overtaken by Honda in July through September. But after a 15.7% increase in Vehicle Movement—outpacing an 11.1% gain in Average Inventory—Toyota's IEI score improved by more than 16 points to 197.4. Highlander, RAV4, and Camry all contributed to the brand's performance, with double-digit gains in Average Inventory and Vehicles Moved. Honda and Kia, meanwhile, both experienced declines in their IEI scores due to rapidly increasing supply (up 22.0% and 16.4%, respectively) without seeing substantial gains in Vehicle Movement (up 0.6% and 1.0%, respectively).
"The Inventory Efficiency Index score is really a measure of whether a brand's demand is keeping up with its supply," said Rick Wainschel, Vice President of Data Science & Analytics at Cloud Theory. "All three of these makes are moving their vehicles efficiently, but Toyota was more effective at moving their growing supply in the current month."
In terms of regional leadership, Toyota is the top Inventory Efficiency make in four of the nine census areas, with Honda leading in four others and Kia in one. In the prior period, Honda led in eight of the nine regions.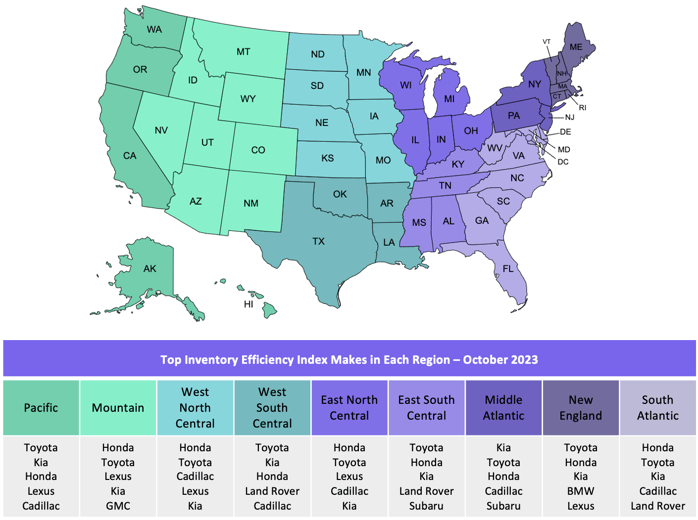 Cloud Theory Data, November 2023
General Motors fared well in efficiency performance, with GMC joining longer-term leaders Cadillac and Chevrolet in the top 10 and supplanting Hyundai. For all three of those makes, MoM inventory gains were modest (+4.8%, +2.5%, +2.1%, respectively, vs. an overall industry gain of +10.7%), with other domestic makes also making minimal supply gains or actually declining (Ram +3.1%, Buick -0.1%, Chrysler -2.6%, Jeep -4.6%) – likely an effect of the recently resolved UAW strike. Ford (+10.0%) and Dodge (+15.7%) were exceptions to these lower inventory trends.
The 10.7% gain in Average Inventory pushed the overall industry new vehicle count to 2.29 million—just one month after passing 2 million for the first time in more than two years. Vehicle Movement also grew (+2.5%) but did not keep pace with supply gains. "OEMs should take note of the acceleration in inventory counts across the automotive landscape", said Ron Boe, Chief Revenue Officer at Cloud Theory. "They also need to recognize that consumer purchases are not keeping pace, so their support dollars need to work harder and smarter to ensure that demand stays in balance with supply."
"With this rapid increase in inventory, moving it efficiently becomes all that much more important", said Rick Wainschel. "But the fight for leadership on this front is a constant battle as evidenced by the shifts that have occurred throughout the year. A brand cannot rest on past laurels in today's rapidly evolving environment."