GRAND RAPIDS, MI- Cloud Theory, the real-time automotive data insights provider, has announced that according to August results from its proprietary Inventory Efficiency Index, Honda has begun to solidify its lead over Kia and Toyota, while luxury brands Cadillac and BMW are now in the top five of performers nationwide.
Cloud Theory's patent-pending Inventory Efficiency Index (IEI) provides a previously unavailable real-time view of market-relevant supply and demand of all makes and models and across all geographies. Key decision-makers can use the IEI to confidently allocate valuable marketing and incentive dollars to models or geographies requiring a boost in demand, or to redistribute vehicles to locations that are moving inventory more efficiently. Cloud Theory's Inventory Efficiency Index assigns scores to vehicle makes and models based on current active inventory and sales data relative to competitors.
A score of 100 means that an OEM's demand is balanced with its relative supply in the marketplace.
A score above 100 indicates that a make or model is selling its inventory more efficiently than average.
A score below 100 means that there are opportunities to bring demand into better alignment with supply (or vice versa).
Honda has widened its lead over Kia in August, solidifying its top spot over the #2 brand by 11.7 points. Toyota is still in third place in overall U.S rankings but has fallen -9.1 points from July according to the most recent IEI results.
Luxury Brands See Significant Shifts
While Honda, Kia, and Toyota have consistently been in the top three positions since February of this year, there have been significant shifts in the luxury space over the course of 2023:
Cadillac, which started 2023 ranked 13th in Inventory Efficiency, has steadily improved its position over the course of the year and is now in the fifth spot in August.
BMW's rise in IEI rank is not as dramatic (the brand began the year ranked 6th), but is now just ahead of Cadillac in 4th
Lexus started the year ranked #3 but has now dropped to 7th place in the current rankings. Lexus' IEI rank decline is driven by a 12% MoM increase in Average Inventory, but a 4% decline in the brand's Vehicle Movement.
"It is not surprising to see Honda, Kia, and Toyota continuing to battle for the Inventory Efficiency lead," said Rick Wainschel, Vice President of Data Science & Analytics at Cloud Theory, "but Cadillac's sharp upturn in score and rank has been nothing short of impressive. With three other luxury makes (BMW, Lexus, and Land Rover) in the top 10, it demonstrates that OEMs can efficiently move metal at the higher end of the price spectrum as well."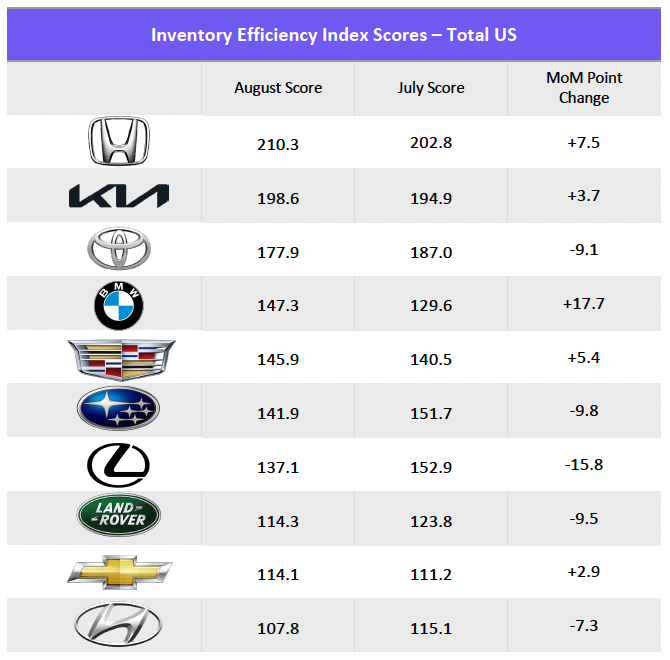 Honda, Kia Lead Regionally
The regional view across the country has similarities to the national picture. Honda, the leader across the U.S., leads in five regions, with Kia claiming the top spot in the other four. On the luxury front, BMW is among the leading makes in five of the nine regions, with Lexus (four), Cadillac (three), and Land Rover (two) also appearing on multiple lists.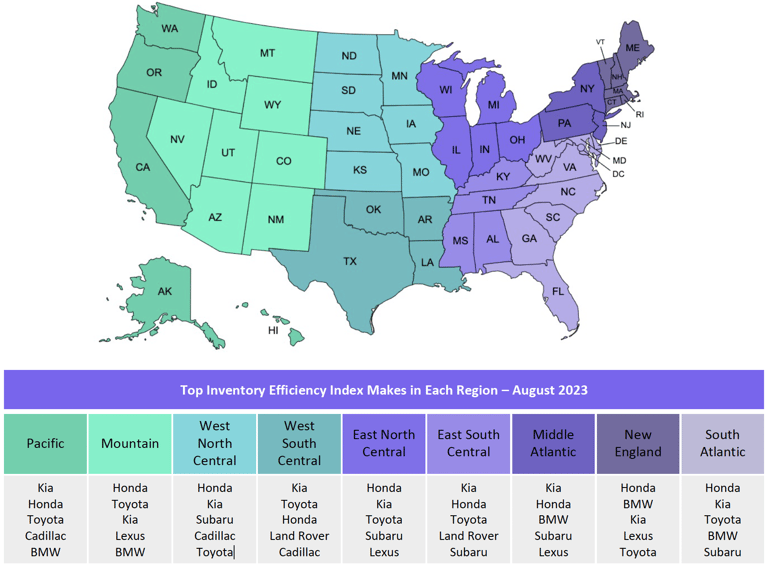 "Although the regional view includes many of the same brands that lead on a national basis, their relative positions still point to opportunity areas across the country," said Ron Boe, Chief Revenue Officer at Cloud Theory. "A leading make like Toyota, for example, can look to improve its position nationally by increasing demand in the West North Central, Middle Atlantic, and New England regions where it ranks outside of the top three."