FOR IMMEDIATE RELEASE
May 10, 2023
Cloud Theory's Inventory Efficiency Index Shows Toyota Now Ranked #1 Nationally
Cloud Theory reports national and regional rankings for the automotive industry, with Toyota moving into the lead for the first time in 2023.
GRAND RAPIDS, MI–Cloud Theory, the innovative automotive data insights provider, has announced its April findings of national and regional Inventory Efficiency Index rankings in the automotive industry. Backed by Cloud Theory's real-time inventory and vehicle movement insights, these rankings reflect which OEMs are getting more than their fair share of sales compared to their relative supply in the marketplace.
The Inventory Efficiency Index (patent pending) provides a previously unavailable view of market-relevant supply and demand of all makes and models, across all geographies, and in real-time so that key decision makers can confidently allocate precious marketing and incentive dollars or reallocate vehicles to where they have the best chance to sell quickly.  A score of 100 indicates that relative supply and relative demand are in balance while a score above that benchmark points to a make or model getting more than its fair share of vehicle movement. A score below 100 indicates that steps should be taken to boost demand or tamp down supply. 
April findings reveal that Toyota has reached the top spot nationally, overtaking Kia, with an Inventory Efficiency Index of 156.9. Toyota gained 15.4 points compared to the prior month. Kia lost some ground but remains a strong performer in the second spot and with a score above 150.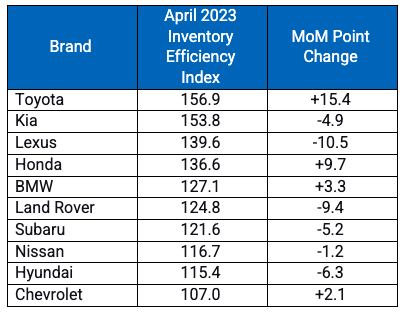 Rick Wainschel, VP of Data Science & Analytics for Cloud Theory, said, "Sometimes one or two models can move a brand forward, but in the case of Toyota, almost every model in its lineup experienced a jump in vehicle movement, resulting in a double digit increase in its efficiency score. Aggressive leasing and financing programs on key models such as the Corolla, RAV4, and Tacoma contributed to this nationwide improvement. This is a good sign that Toyota is turning the inventory corner and moving to support its models," Wainschel remarked. 
Regional Rankings
Although Toyota is #1 nationally, Cloud Theory reports differing rankings when breaking down the data by region. Toyota ranks first in five of the nine census regions, with Lexus, Kia, and Honda taking the top spot in the other four.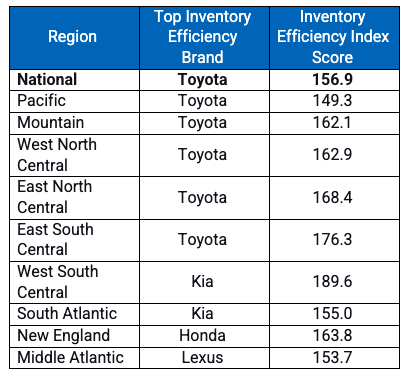 Ron Boe, Cloud Theory's Chief Revenue Officer, explained: "When OEMs are making their incentive and financing program decisions, they need to consider how to allocate their resources in order to maintain leadership positions or to shore up areas of opportunity. By making decisions strategically and surgically, support programs can be tailored by considering a make's inventory supply and demand position relative to the competition, and putting funds to work in the places that they are most needed."
About Cloud Theory   
Cloud Theory is more than a concept. It is the eye of the storm, where cutting-edge data, software, and artificial intelligence meet deep industry knowledge and experience. Built for automotive manufacturers, agencies, and affiliates, Cloud Theory enables our customers to understand – in real time – the complex competitive world in which they do business and to make bold decisions that drive them forward. The combination of billions of data points, interactive tools, and expert consulting gives our clients the ability to weather any storm and find their way to clear blue skies. Learn more at cloudtheory.ai. To learn more about our entire portfolio of automotive brands, visit www.advancelocalautomotive.com.   
 
For media inquiries, please contact:      
Mike DeVilling   
mdevilling@cloudtheory.ai   
Rachel Slotnick   
rslotnick@cloudtheory.ai   
XXX