Having sound incentive, marketing, and pricing strategies will help manufacturers adapt to the new market dynamics
It's no secret that new vehicles have been in short supply over the past year and a half, with cars often flying off the lot the day they arrive (or even before they arrive) on a dealer's lot.
It can be a tricky business for both buyers and sellers to negotiate a mutually agreeable price. But there is a situation that can simplify this equation. The uncomplicated dynamics of healthy demand coupled with very short supply has led to a rise in prices, driven by the assumption that if a consumer did not want to pay a premium price the next person in line would. This set of circumstances resulted in 67% of new vehicles being listed above MSRP in March 2022, which rewrote the script of how sellers and buyers began their interactions.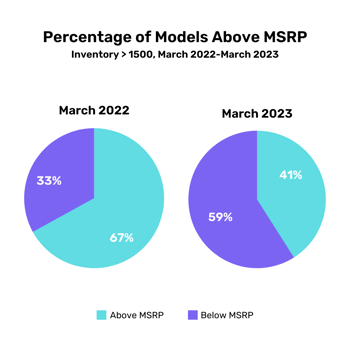 While the price negotiation playing field has certainly not reverted to the days before the COVID pandemic and resulting supply chain shortages, the recent rise in inventory levels has begun to tip the field back toward a more typical equilibrium. While still high compared to historical levels, the percentage of vehicles listed above MSRP in March 2023 is now down to 41%.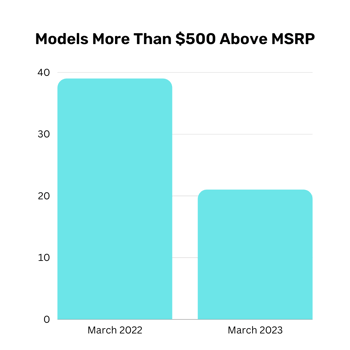 More detailed information presented and studied by Cloud Theory provides additional indications that pricing premiums are easing. The number of models with list prices more than $500 above MSRP was cut almost in half compared to a year ago. 21 models exceeded this threshold in March 2023, down significantly from 39 models in March 2022.
On the other side, there has been a notable increase in the number of models with list prices $1,000 or more below MSRP – 26 in March 2023 versus just 4 models hitting this mark the year before.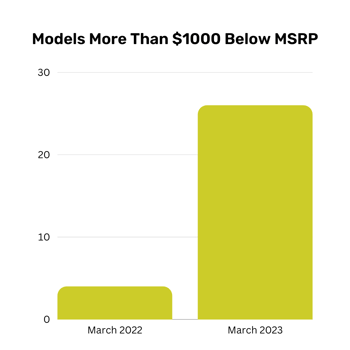 These statistics highlight a trend towards stabilizing prices and easing up of premiums, which is positive news for consumers who have had to endure high prices and low inventory in recent years. And while sellers are still in the driver's seat regarding pricing, manufacturers and dealers will need to be more aggressive with incentives for those models and in those markets where growing inventories are shifting to a more balanced supply and demand equation. Additionally, reallocating advertising dollars to models that are not selling as quickly will help to maintain sales targets. Finally, keeping a close eye on competitors' pricing strategies will help them stay on top of the latest trends in the market.
This shift in pricing and inventory reflects the changing landscape of the automotive industry. As consumer preferences and market trends continue to evolve, it will be important for manufacturers to stay agile and adaptable in their strategies. With the right incentive, advertising, and pricing strategies, manufacturers can adapt to the changing market and stay ahead of the competition.