EPA Regulations Are Pushing Auto Manufacturers to Produce More EVs, But Consumer Demand Isn't Keeping Pace
"We choose to go to the Moon in this decade and do the other things, not because they are easy, but because they are hard; because that goal will serve to organize and measure the best of our energies and skills, because that challenge is one that we are willing to accept, one we are unwilling to postpone, and one we intend to win, and the others, too."
-John F. Kennedy at Rice University, September 12, 1962
In April of this year, the Biden Administration announced aggressive federal standards to avoid almost 10 billion tons of CO2 emissions and reduce oil imports by 20 billion barrels by 2055. Overall, the Environmental Protection Agency (EPA) estimates that the benefits of these standards will exceed their costs by $1 trillion. To achieve these objectives and "depending on the compliance paths selected to meet these standards," the EPA estimates that electric vehicles will account for 67% of new light-duty and 46% of new medium-duty vehicle sales in the model year 2032—a send-a-man-to-the-moon undertaking over the next nine years.
In anticipation of these requirements, OEMs have been aggressively introducing new EV models and ramping up production of existing ones. To put this recent shift into perspective, the number of EVs with average inventories of 1,000 or more ranged between two and six from Q3 2021 to Q3 2022. That number moved up significantly starting in Q4 2022—now sitting at 27 in the current quarter-to-date—reflecting the numerous new introductions over the past year. Additionally, inventory levels for existing EV models have increased substantially, led by the Ford Mustang Mach-E and Volkswagen ID.4, which are up 1,006% and 632%, respectively, compared to a year ago.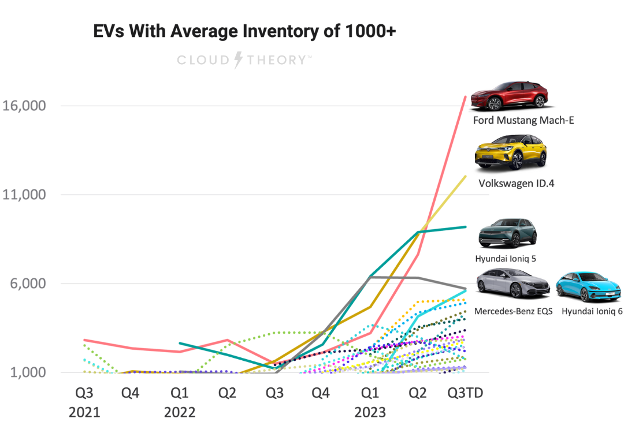 But while OEMs have made notable advancements in expanding EV supply, there are two interconnected and profound challenges to surmount in the near future.
The first challenge is that—even with the recent surge—EVs still account for less than 20% of total vehicles being produced. And for major brands other than Tesla, that count is just 6%. So, while OEMs are paying more attention to this market segment, the concept of EVs as a mainstream player is still in its infancy.
The second challenge is that even with this gap between the current state and intended future state, demand has lagged well behind the increased supply. Cloud Theory's count of Vehicles Moved shows that non-Tesla sales account for just 3.3% of the industry total (and even when adjusting for all EVs, that tops out at only about 10%)—a decided improvement over the 1% mark in late 2021 for sure, but nowhere near where the industry needs to go in less than a decade.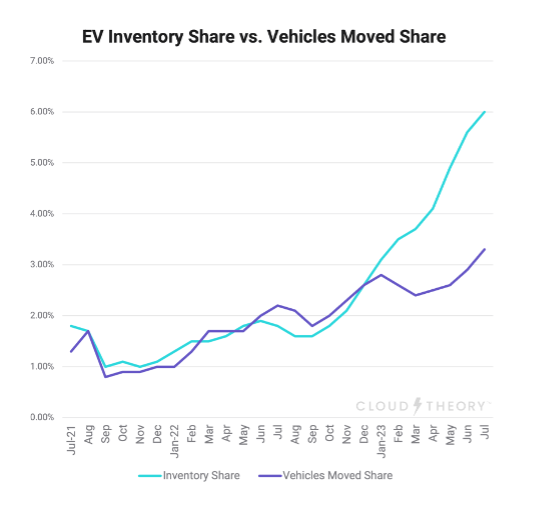 This imbalance between increasing supply and lagging demand has resulted in declining Turn Rates, longer selling periods, and rising pricing pressure, which can be clearly seen in the views below.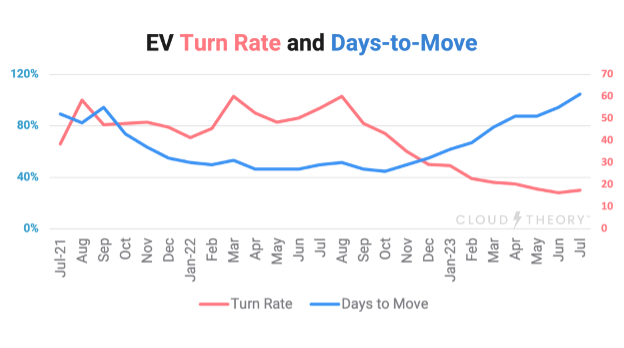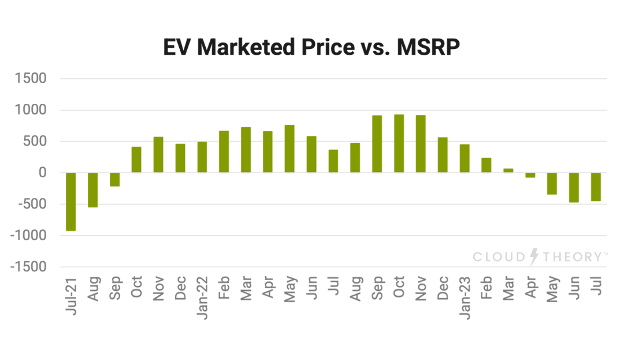 The answer to this dynamic cannot be to discount prices, even though that is the short-term stopgap that has played out thus far (including for Tesla, which has increased discounts by up to $10,000 in recent months). With auto manufacturers generally losing money on almost every EV they sell, squeezing margins further is a non-starter strategy.
Instead, the industry—in concert with federal, state, and local governments—needs to continue to innovate, build out necessary infrastructure, and overcome consumer resistance. The scope and challenge of this transformation should not be underestimated; it will take a concentrated focus and scope of effort akin to building rockets and launch pads along with the imagination and ingenuity to develop new technologies and techniques that will get us to "Tranquility Base." The steps will include (but not be limited to) such undertakings as:
Improving battery capacity to provide peace of mind and extend driving range

Building out infrastructure to make recharging as accessible, fast, and convenient as stopping at a gas station.

Creating charging equipment standards (or adaptors) that are universally suitable for all makes and models.

Overcoming consumer reluctance on these issues via marketing and social media to tout the advancements of these vehicles and their benefits to our society and the environment.

Overcoming entrenched business interests from groups such as oil companies and creating and subsidizing new industries and economies to replace them.
In other words, the EV industry must change the world as we know it. To get there, in the words of world-renowned cosmologist Martin Rees, "The 'clean energy' challenge deserves a commitment akin to the Manhattan project or the Apollo moon landing."
We can only hope that this will result in one giant leap for mankind.