New Automotive "Inventory Efficiency Index" (Patent Pending) Ranks High-Performing and Challenged Automotive Brands
As new vehicle inventory levels continue to recover from supply-chain driven lows in 2021/2022, it is crucial that OEMs and their agency partners understand if vehicles are selling efficiently or if they need a boost. Cloud Theory's new automotive "Inventory Efficiency Index" reveals that automakers Kia and Lexus have gotten off to the strongest starts in the first two months of 2023.
What is Cloud Theory's Inventory Efficiency Index?
Cloud Theory's "Inventory Efficiency Index" (patent pending) provides a previously unavailable supply and demand view of all makes and models, across all geographies, and in real-time so that key decision makers can confidently allocate precious marketing and incentive dollars or reallocate vehicles to where they have the best chance to sell quickly.
The Inventory Efficiency Index measures the relationship between a make or model's competitive supply situation and its market share. A score of 100 indicates that an OEM is getting its fair share of sales. A score above 100 reveals that an OEM is selling its vehicles more efficiently than average, while a score below 100 uncovers a need to raise demand to meet supply.
How is the Inventory Efficiency Index used by OEMs?
By understanding their Inventory Efficiency Index scores, OEMs and agency partners can:
Take steps to boost demand for low scoring makes/models/geographies by increasing media or incentive spending

Fund increased investment by reducing or reallocating spending from high scoring makes/models/geographies that are already moving well

Reallocate vehicles from high supply/low demand geographies to ones that are in low supply/high demand situations
Kia, Lexus Are Off to the Strongest Start in 2023
Kia and Lexus led a group of eleven brands that had Inventory Efficiency Index scores of 100 or above.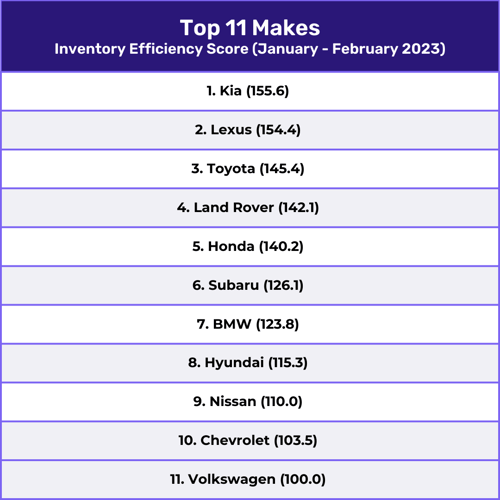 "Manufacturers with an Inventory Efficiency Index score of 100 or more have a strong overall foundation of demand that is exceeding or meeting supply, enabling them to focus on identifying opportunities to spend less in low supply/high demand situations" says Rick Wainschel, Vice President, Data Science & Analytics at Cloud Theory. He goes on to say that there are still opportunity models and markets that these high-performing OEMs can identify when looking at this information more granularly. "Meanwhile, manufacturers scoring below 100 should look to this information more from the standpoint of pinpointing areas where they can shore up inefficiencies by increasing demand," Wainschel continues.
Cloud Theory will continue to monitor and publish Inventory Efficiency Index data as the automotive landscape evolves.
About Cloud Theory
Cloud Theory is more than a concept. It is the eye of the storm, where cutting-edge data, software, and artificial intelligence meet deep industry knowledge and experience. Built for automotive manufacturers, agencies, and affiliates, Cloud Theory enables our customers to understand – in real time – the complex competitive world in which they do business and to make bold decisions that drive them forward. The combination of billions of data points, interactive tools, and expert consulting gives our clients the ability to weather any storm and find their way to clear blue skies. Learn more at cloudtheory.ai. To learn more about our entire portfolio of automotive brands, visit www.advancelocalautomotive.com.

For media inquiries, please contact:

Mike DeVilling
mdevilling@cloudtheory.ai
Rachel Slotnick
rslotnick@cloudtheory.ai