Multiple long and short-term factors are contributing to segment inventory inefficiency
Full-size pickup trucks have long been a mainstay in automotive inventories and sales and are a significant driver of profits for Original Equipment Manufacturers (OEMs) with a large presence in that segment. In the first quarter of 2023, for example, four of the top five models in terms of Average Inventory levels are full-size pickups. But while models such as the Ford F-150, Chevrolet Silverado 1500, Ram 1500, and Sierra 1500 continue to assert their large presence in the marketplace, the efficiency at which these vehicles are selling is among the lowest of any segment in the industry.
Cloud Theory's "Inventory Efficiency Index" (patent pending) provides a previously unavailable view of market-relevant supply and demand of all makes and models, across all geographies, and in real-time so that key decision makers can confidently allocate precious marketing and incentive dollars or reallocate vehicles to where they have the best chance to sell quickly.  A score of 100 indicates that relative supply and relative demand are in balance while a score above that benchmark points to a make or model getting more than its fair share of vehicle movement. A score below 100 indicates that steps should be taken to boost demand or tamp down supply.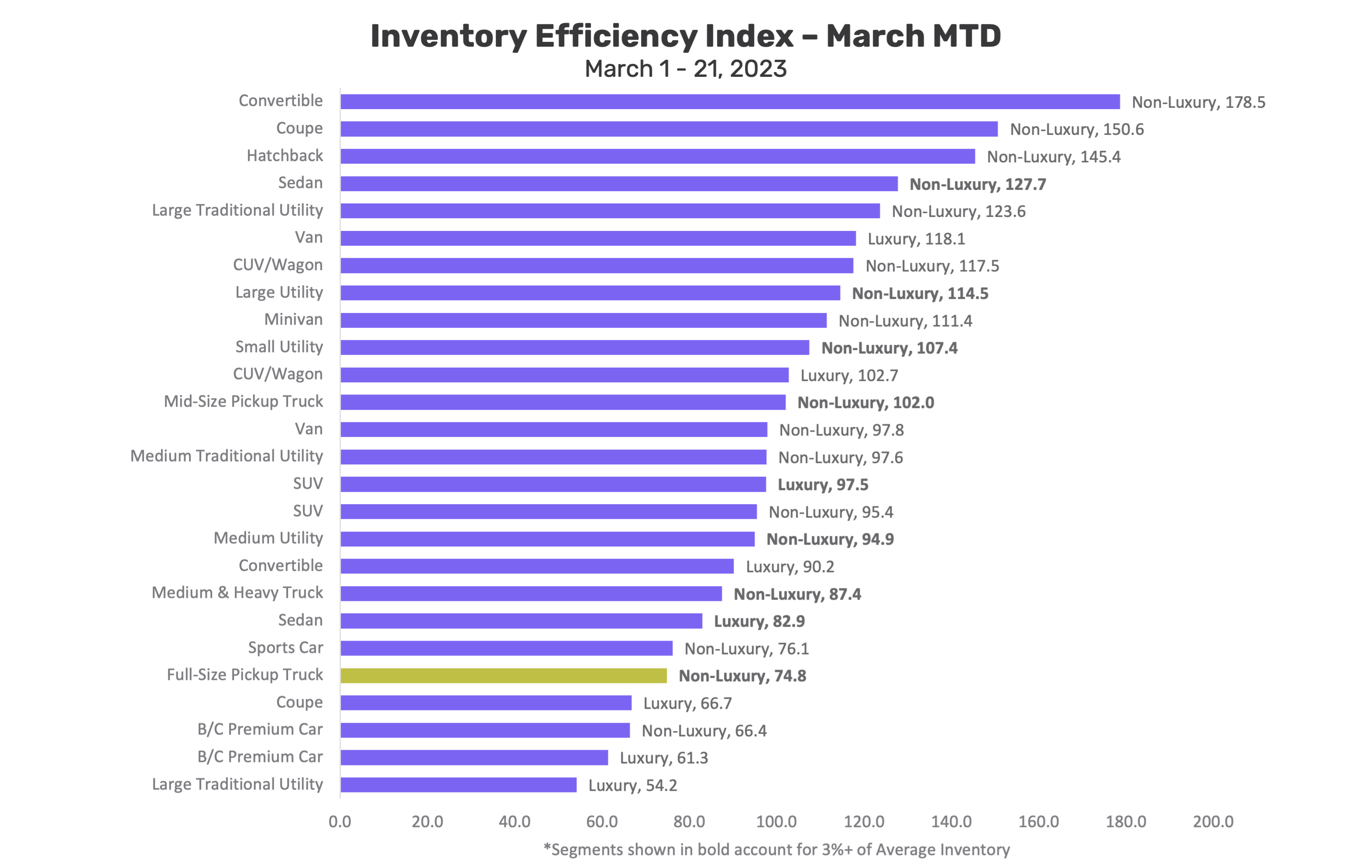 The full-size pickup truck Inventory Efficiency Index score of 74.8 is the lowest of any segment with 3%+ of total inventory. There are a number of long-term and short-term factors contributing to this.
Longer-Term Factors
The full-size pickup truck segment's Inventory Efficiency Index score has been below 100 since Q3 of 2021, beginning when gas prices spiked and remained above $3.00 a gallon on a national basis. Prior to that, the segment index score had been above 100 for five consecutive quarters, beginning in Q2 2020 when COVID effects first took hold and vehicle buying was more oriented around "need" than "want".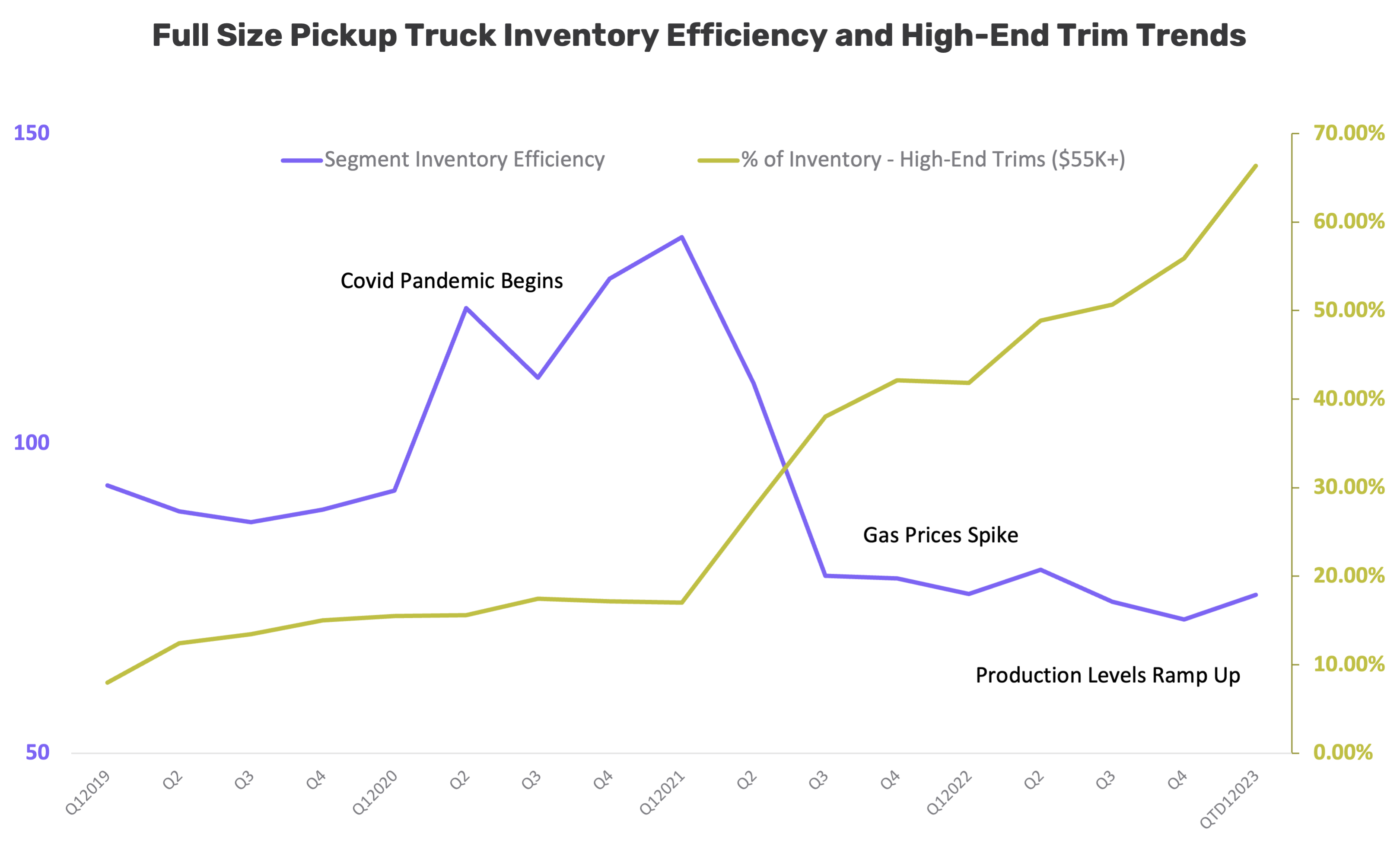 Simultaneously, beginning in Q3 2021, the inventory mix within the segment began to quickly move in the direction of higher-end and highly contented trims at significantly higher price points as lower-end models sold more quickly. This trend has greatly accelerated as time has progressed, with trims priced at $55,000+ accounting for 66.3% of inventory in Q1 2023 vs. just 17.0% two years prior.
Shorter-Term Factors
With those longer-term market dynamics as a backdrop, truck-reliant OEMs began to focus more production on that segment beginning in July 2022 as supply chain issues became more pronounced. In the last six months, full-size pickup trucks saw a 31.1% increase in inventory added; in contrast, the large utility segment experienced just an 11.7% increase. "The truck segment is always seen as a high priority because of those vehicles' bottom-line contributions," said Rick Wainschel, Vice President of Data Science & Analytics at Cloud Theory. "With chips and other parts in short supply, it is not surprising that manufacturers would concentrate on producing models that have the highest profitability. But with lower priced trucks now in short supply, consumers are more apt to delay their purchase or gravitate towards other segments such as SUVs that can fulfill their needs."
With ramped up production added on top of the longer-term factors already in place, full-size pickup truck Inventory Efficiency took a hit from its already depressed levels. Month-to-date in March 2023, for example, the segment is down 5.5 points compared to levels seen in June 2022 prior to the increase in supply. Comparatively, the large utility segment's efficiency is up 11.3 points over that same timeframe.
"Increasing production when the segment was already facing significant headwinds due to fuel prices and higher-end vehicle costs - not to mention consumer concerns about the economy and inflation - has added to the ongoing disparity between supply and demand," Wainschel continued. "OEMs with truck-heavy lineups will need to consider steps to raise demand, as well as to rebalance supply, both at the model and trim levels."
Cloud Theory will continue to monitor and report on these industry dynamics across all segments, makes, models, and trims.
About Cloud Theory  
Cloud Theory is more than a concept. It is the eye of the storm, where cutting-edge data, software, and artificial intelligence meet deep industry knowledge and experience. Built for automotive manufacturers, agencies, and affiliates, Cloud Theory enables our customers to understand – in real time – the complex competitive world in which they do business and to make bold decisions that drive them forward. The combination of billions of data points, interactive tools, and expert consulting gives our clients the ability to weather any storm and find their way to clear blue skies. Learn more at cloudtheory.ai. To learn more about our entire portfolio of automotive brands, visit www.advancelocalautomotive.com.  

For media inquiries, please contact:    

Mike DeVilling  
mdevilling@cloudtheory.ai  
Rachel Slotnick  
rslotnick@cloudtheory.ai