FOR IMMEDIATE RELEASE
JUNE 7, 2023
Cloud Theory's Inventory Efficiency Index Shows Kia Leading, But Three Other Brands Are Fighting for the National Leadership Spot
Cloud Theory reports national and regional rankings for the automotive industry. Kia has regained its lead, but Toyota, Lexus, and Honda are fighting for supremacy.
GRAND RAPIDS, MI– Cloud Theory, the innovative automotive data insights provider, has announced its May findings of national and regional Inventory Efficiency Index rankings in the automotive industry. Backed by Cloud Theory's real-time inventory and vehicle movement insights, these rankings reflect which OEMs are getting more than their fair share of sales compared to their relative market supply.
The Inventory Efficiency Index (patent pending) provides a previously unavailable view of market-relevant supply and demand of all makes and models across all geographies and in real time so that critical decision makers can confidently allocate precious marketing and incentive dollars or reallocate vehicles to where they have the best chance to sell quickly. A score of 100 indicates that relative supply and relative demand are in balance, while a score above that benchmark points to a make or model getting more than its fair share of vehicle movement. A score below 100 indicates that steps should be taken to boost demand or tamp down supply.
May findings have revealed that Kia has retaken the top spot nationally after Toyota secured the #1 ranking in April. While those two brands have traded places over the past two months, an emerging story is the solidifying of four top brands – Kia and Toyota as mentioned above, along with Honda and Lexus – vying for efficiency supremacy.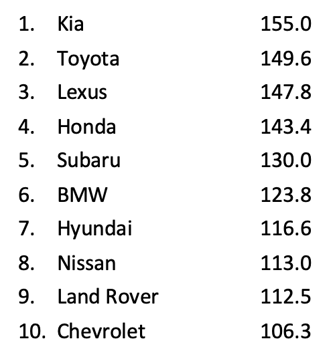 Kia's leadership is fueled by its top-ranked SUV models – Telluride and Sportage, with segment-leading efficiency scores in their respective competitive sets (Telluride: 170.1 in Full-Size SUVs, Sportage: 149.5 in Mid-Size SUVs).
It is noted that these four brands are leading the Inventory Efficiency Index scoring in two or more regions of the country:
Kia: South Atlantic, West South Central, and East North Central

Lexus: Pacific and Middle Atlantic

Toyota: Mountain and East South Central

Honda: New England and West North Central
"With disbursed leadership at the regional level, it is not surprising that these four brands are battling it out at the national level," said Rick Wainschel, Vice President of Data Science & Analytics at Cloud Theory. "Each manufacturer has a strong base upon which to expand its overall position over time," he continued.
"These regional differences in leadership point out the importance of allocating marketing, advertising, and incentive spending where it is most needed – not just for the leading brands, but the ones that aspire to reach that level as well," said Ron Boe, Chief Revenue Officer at Cloud Theory.
About Cloud Theory  
Cloud Theory is more than a concept. It is the eye of the storm, where cutting-edge data, software, and artificial intelligence meet deep industry knowledge and experience. Built for automotive manufacturers, agencies, and affiliates, Cloud Theory enables our customers to understand – in real time – the complex competitive world in which they do business and to make bold decisions that drive them forward. The combination of billions of data points, interactive tools, and expert consulting gives our clients the ability to weather any storm and find their way to clear blue skies. Learn more at cloudtheory.ai. To learn more about our entire portfolio of automotive brands, visit www.advancelocalautomotive.com.  
For media inquiries, please contact:      
Mike DeVilling   
mdevilling@cloudtheory.ai   
Rachel Slotnick   
rslotnick@cloudtheory.ai   
###